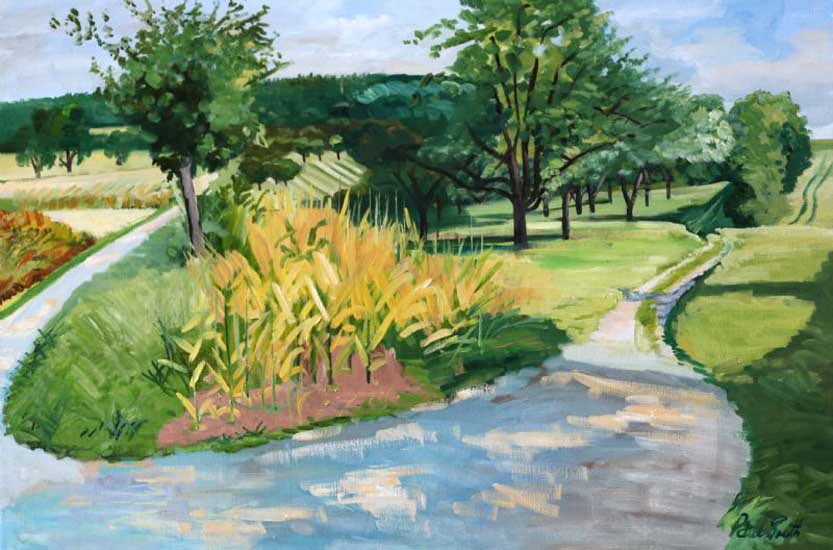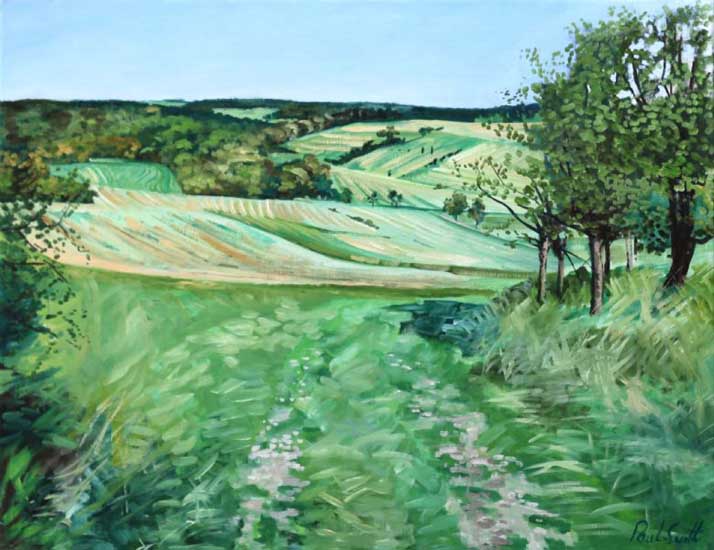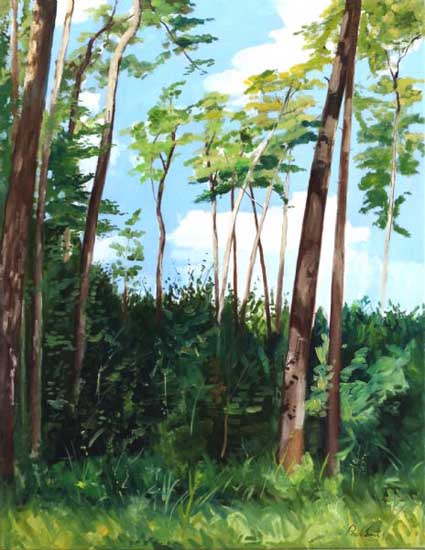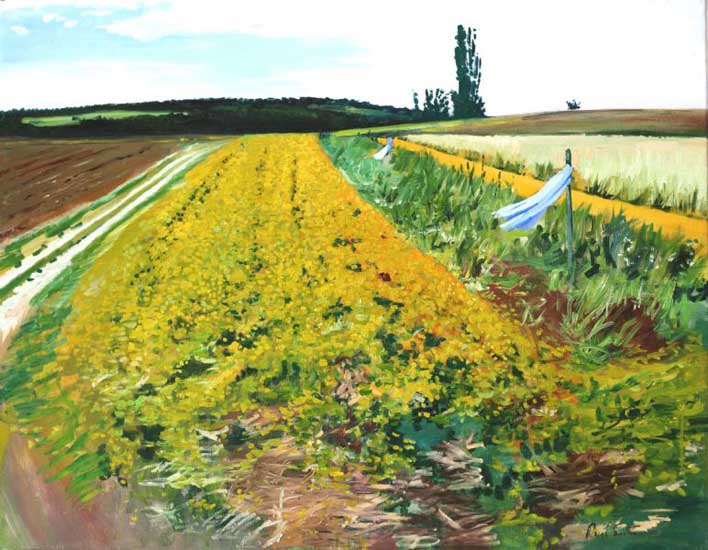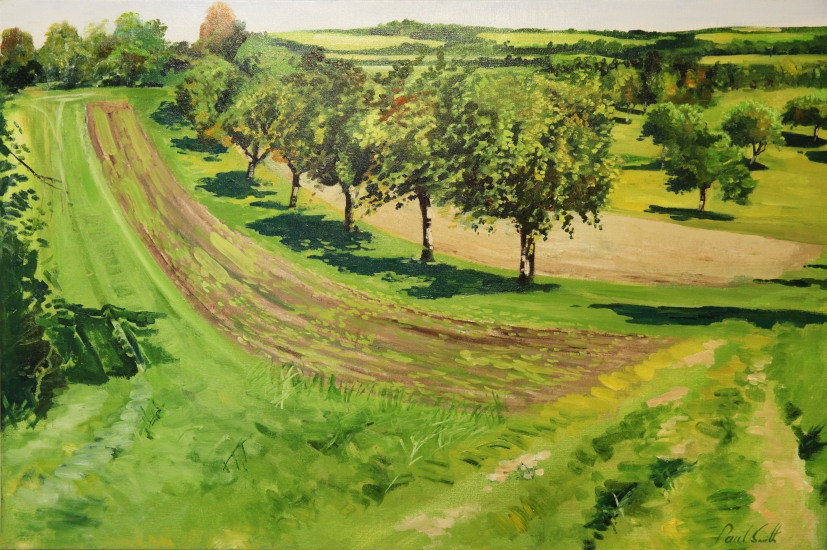 August / September 2008 Heckengae near Monsheim/Weissach
As I turned off the motorway on the road that leads to Mosheim and Weissach , I past a view that somehow has not noticed on my previous visits, possibly the weather was not good or it was dark .
Anyhow as I reached the top of a small hill a short distance from Monsheim I looked to my left, what a beautiful view down a small valley with small trees, apple, possibly cherry in brilliant sunshine.
I stopped the car and went for a short walk, down amongst the trees and fields, I knew I would be back with my paints and canvas, in Heckengaeu.
As I started the first painting a couple of weeks later, I was thinking of some of the artist in the past must have enjoyed a similar feeling, Van Goch, Monet, countless others and today David Hockney.
Here I was beautiful weather, endless subjects to paint, entirely in the nature, painting what I was looking at, no photography or studio work, this will always remain one of my favourite moment as an artist.
The reason that I had travelled from the UK to this spot, was a new design contract at Porsche design centre at Weissach.
The work was intended to last 18 months, but this was the summer of 2008, little did I realise that my world and most of my colleagues and friends was about to change for ever.
Christmas 2008 at a meeting in the design office at Weissach , all contract work has been cancelled due to the financial crisis, so it was all over just as it was starting to get interesting.
As fate would have it I did not go back to contract work, and started seriously painting classic cars and motor sport.
These six landscapes are for me very special, I offer them here for sale for the first time, and for the serious collector are a one off opportunity that cannot be repeated.
Paul Smith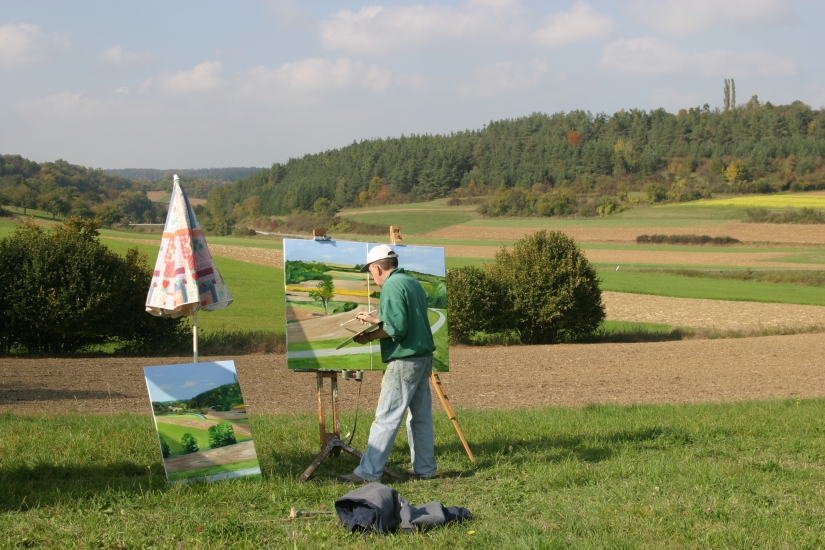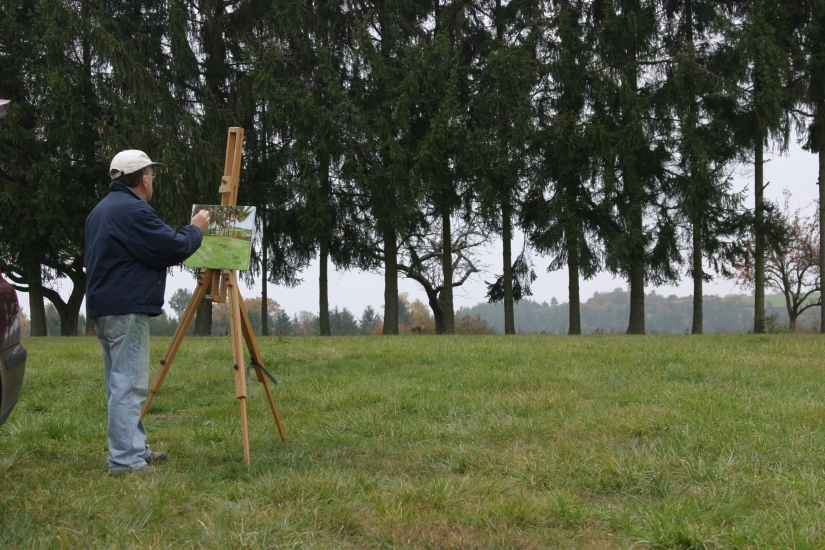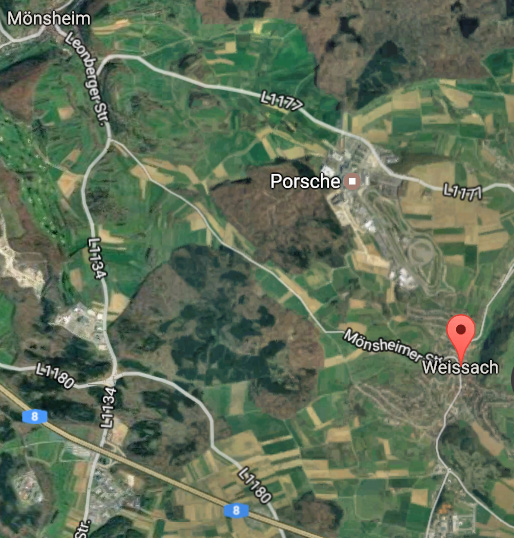 August / September 2008 Heckengaeu bei Monsheim/Weissach.
Als ich die Autobahnausfahrt, die nach Mosheim und Weissach führt, fuhr sah ich eine Aussicht, die bei meinen bisherigen Besuchen ich irgendwie nicht bemerkt hatte, vielleicht war das Wetter nicht gut oder es war dunkel damals.
Jedenfalls, als ich die Spitze eines kleinen Hügels in kurzer Entfernung von Monsheim erreichte, sah ich zu meiner Linken, eine schöne Aussicht auf ein kleines Tal mit kleinen Bäumen, Apfel, vielleicht Kirsche in brillantem Sonnenschein.
Ich hielt den Wagen an und machte einen kurzen Spaziergang hinunter zu den Bäumen und Feldern. Ich wusste, dass ich mit meinen Leinwand und Oilfarben zurück kommen wurde.
Als ich die erste Malerei ein paar Wochen später anfing, dachte ich an einige der Künstler von der Vergangenheit. Sie mussten ein ähnliches Gefühl genossen haben, Van Goch, Monet, unzählige andere und heute David Hockney.
Hier war ich schönes Wetter, endlose Ansichten zu malen, ganz in der Natur. Malen, was ich sah, keine Fotografie oder Studio Arbeit, das wird immer einer meiner Lieblings-Moment als Künstler sein.
Der Grund, dass ich aus England nach Weissach reiste, war ein neuer Designvertrag im Porsche Design Center in Weissach.
Die Arbeit war fur 18 Monate vorgesehen, aber es war der Sommer 2008, ich wusste nicht, dass meine Welt und die meiner Kollegen und Freunde sich für immer ändern würde.
Weihnachten 2008 bei einem Treffen im Designbüro in Weissach, alle Vertragsarbeiten wurden aufgrund der Finanzkrise abgebrochen, also war alles vorbei, als es anfing, interessant zu werden.
Es war mein Schicksal diese Gelegneheit zu nutzen, mit Kontrakt arbeit ganz aufzugeben und begann ernsthaft klassische Autos und Motorsport zu malen.
Diese sechs Landschafts Gemalde sind für mich ganz besonders, ich biete sie hier zum ersten Mal zum Verkauf an. Für einen ernsthaften Sammler sind eine einmalige Gelegenheit, die sich nicht wiederholen wird.
Paul Smith