about
paulsmith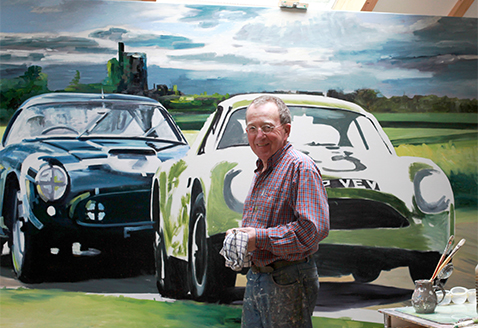 I was born in 1948 and I grew up in the centre of London, for me it is still a very important part of what I do and what excites me. I can remember buying my first tubes of oil paint when I was about 15 year old in our local art shop in Hampstead, I thought this is really easy being an artist especially when I sold my first painting, but actually it took me many years to find my way.
I have been interested in classic cars and classic motor sport since my first visit to Brighton Speed trials in 1968, it's remarkable that the cars I was fascinated in then are still around today , which is part of what I find interesting. I still paint landscape and London street scenes, but my main interest is in the classic car scene. My paintings are often large, the compositions that I prefer often include people and objects that accompany these beautiful cars to create a narrative or to convey a story, either off the present day or can be of a historical setting of many years ago.
Apart from a recent commission that is on wood panel, all my work is oil paint on canvas. I have no interest in making or selling prints of my work, all my paintings are original.
A huge amount of my time is used to research and work out a composition , and it is very important for me that the finished painting shows a workmanship and quality that my clients expect from my work. The smell of the oil paint and the touch of the brush marks are part of what I enjoy , and are an important factor to make each painting unique.
Something in the region of 50% of my paintings are sold abroad, I enjoy the thought that the high quality and the individuality, also that it is made in England is appreciated